First of all with the latest trends of online marketing, mobile app development became the next crucial platform to engage your customers.  Furthermore your customers will tab away and interact with your business. Finally you will be able to better connect and support your products and services.
At WDS Creative we compiled all the latest technology to offer our clients a affordable yet effective mobile application development service, that will interact with website infrastructures as well as independent information sources.
Why get an Android or iOS app for your business?
Unique Mobile Application design and development
We build and develop various native and hybrid application solutions powered by Ionic3 frameworks. This also providing a great platform to incorporate dynamic brand features that would assist your customers to identify with your brand. Furthermore our apps comes with a solid UI design. This ensures that your clients find the correct business information they are looking for in just a few swipes.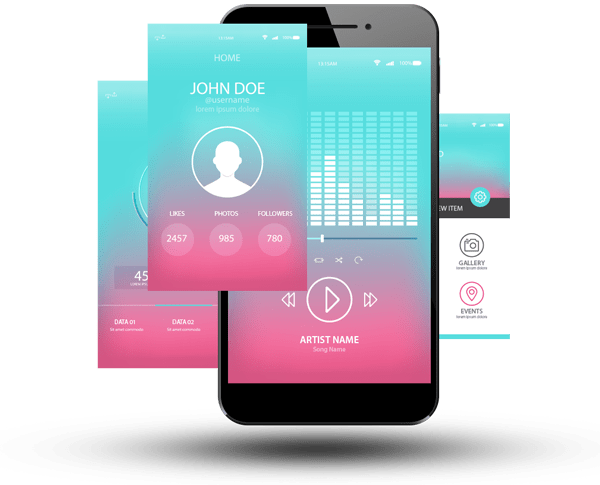 App Planning
Ui Design
Core Development
Integration
Rollout
Our Android App Development Process
Planning
In the planning stage of your mobile app development. We gather all your information, artwork, marketing  and graphics.  This provides us with a platform to configure the base and essentials of your mobile app requirements
UI Design and App Development
Integrating your brand identity is paramount. This forms part  of the core mobile app development. From splash screen to general pages we configure and deploy high end UI Designs to ensure a great user experience.
Core Development
Once the UX and UI Design is completed we integrate interface seamlessly. Also streamline core frameworks or engine of your mobile app. This will provide a working version of your mobile app development.
Testing and Staging
Consequently once we compiled your mobile app we provide you with a pre-release version of the app for staging and testing purposes. This will allow you to see the app in operation and its functionality
App Amendments
Once we receive your review, we incorporate any amendments, to the mobile app design your might require. With all the changes included we provide you with a final working app pre-release.
Rollout
Finally, your mobile app is now ready for rollout. We setup and configure your app rollout on Google Play and iOS. Depending on the platform you chose to deploy. Now you only need to market your mobile app.
Android and iOS App support and upkeep
With a comprehensive supported Ionic or Google Fire base back end it is easy to manage your mobile app. Also maintain and update your own mobile application. If you do not have time to maintain or upkeep your own app we can do that for you!
Marketing your Mobile Application development
There are many channels to market or launch your application, if you are unsure about the best way to launch your app and inform you customers we can assist
Design kit for marketing your mobile application
Google Play optimization
Apple store Optimization
Mobile App Development Launch site
Custom Adverts for Facebook (Twitter)
Custom Adverts for Google Plus
Custom Video Launch (Vimeo / Youtube)
Facebook Page App
Integrate your Facebook business page into a stunning mobile app, use Facebook framework to update your app in real time.
Custom Landing
Contact Page
Directions Page
Review Page
Lodge + BNB Booking App
Let you customers engage, book and review your accommodation venue, fast booking and venue Showcase
Facebook Page
Push Notifications
Local Information
Attraction Guide
Conference Calendar
Keep your conference planning deployed with a custom mobile app that conference attendees can engage with
Schedule Page
Speakers Profile
Events Calendar
Map Direction Page
Real Estate Listing App
List and Showcase your properties with a custom look and feel real estate listing app
Firebase Back end Management
Property Search
Maps and Direction
Property Presentation
Mobile App Development South Africa